LUMINTOP BLF GT Super Bright Searching Flashlight 2000 Lumens with Cree XHP35 HI LED Max 2000 Meters
Free shipping included: USA, Canada, WEST EUROPE, ASIA

20 USD (included when checking out): Australia, New Zealand, part of East Europe
40 USD

(

included when checking out

)

: Serbia, Ukraine, Uruguay, Croatia, Saudi Arabia, South Africa
*For remote areas, there would be additional shipping fee once we noticed by the Carrier company.
Specifications
Emitter: 12V Cree XHP35 High Intensity, cold white and neutral white options, mounted on copper DTP MCPCB
Flux: >2000 lm
Intensity: >1 Mcd (ANSI throw >2000 m)
Firmware: Tom E's open-source NarsilM v1.2
User interface: [1] By default the GT is set to use the very intuitive Narsil smooth RAMPING UI. Instant access to a 2.5 A TURBO mode is also provided. A more conventional discrete level MODE-SET UI is available as an alternative. Anyone of 12 predefined mode-sets can be selected.MOMENTARY mode is useful for signaling purposes or rapidly/briefly lighting up targets.
Battery: 4 or 8 button-top 18650 cells (4S1P or 4S2P). Protected cells are recommended. Cells are excluded.
Driver: 35 W, 2.5 A regulated buck driver with conversion efficiency that exceeds 90%. Parasitic drain while OFF is ~150 μA (~250 μA with button back-light on).
Reflector: 118 mm ID, aluminum, smooth finish
Lens: Glass with anti-reflective coating
Body: Aluminum with Type III hard-coat anodizing
Tripod socket: Standard 1/4 inch threaded (1/4-20 UNC)
Button: Tactile with back-lit rubber boot
Ingress rating: Equivalent to IP65, do not immerse in liquids
Weight: Approximately 1.8 kg without cells
Dimensions: 135 mm Ø head x 315 mm length
The optional batteries are Samsung IMR18650 35E 3.7V/3500mA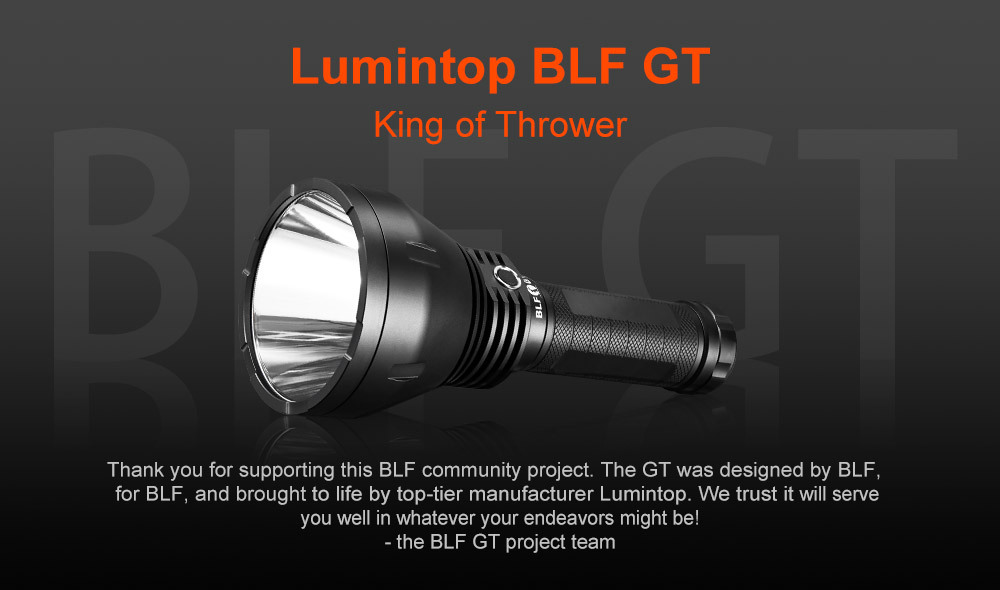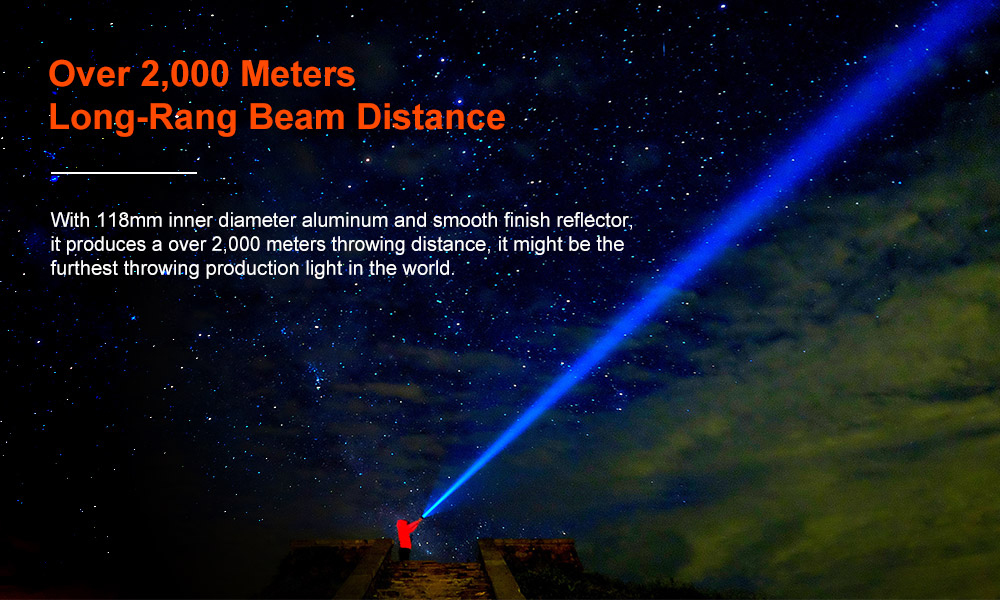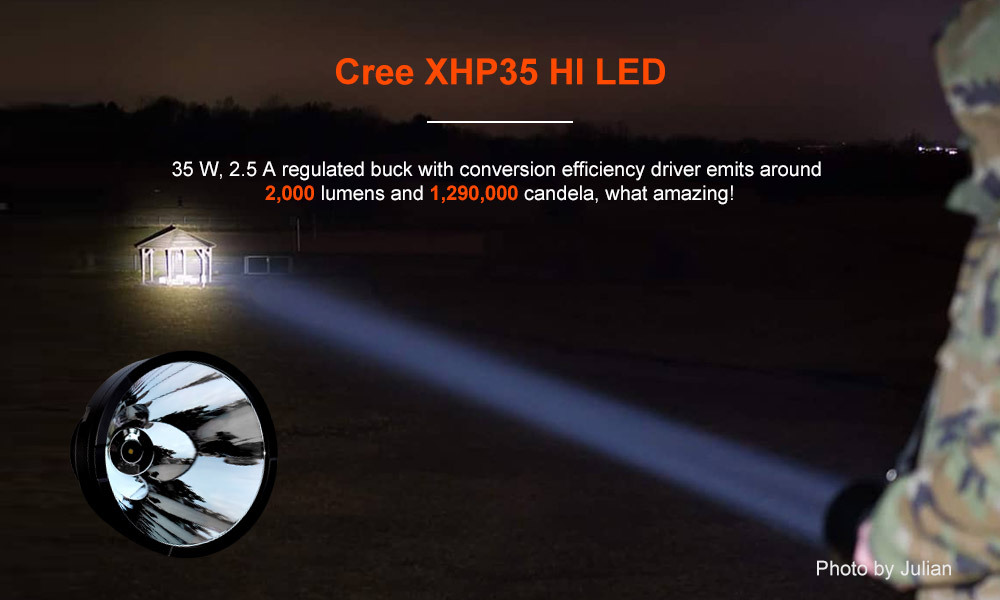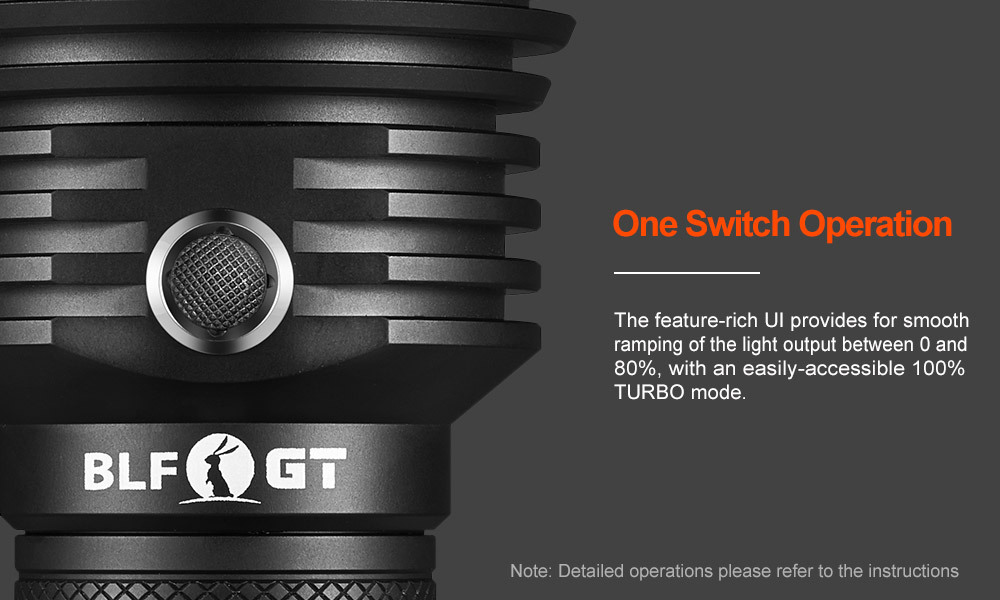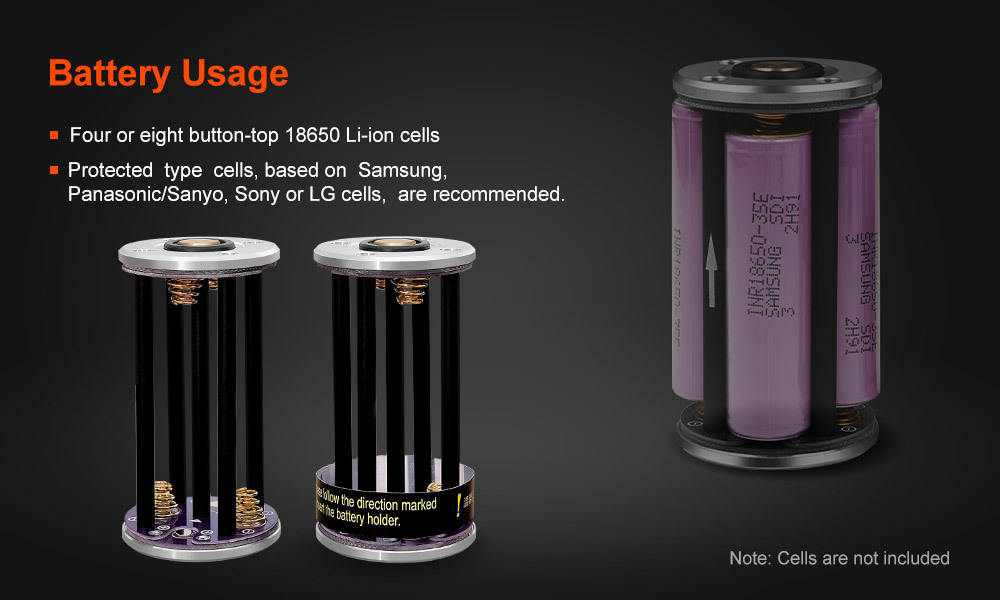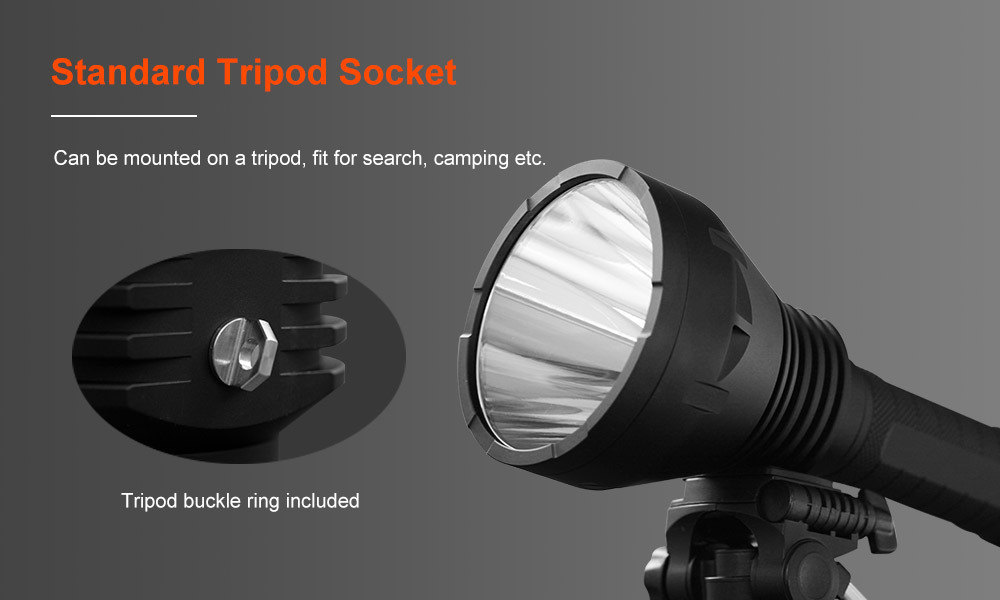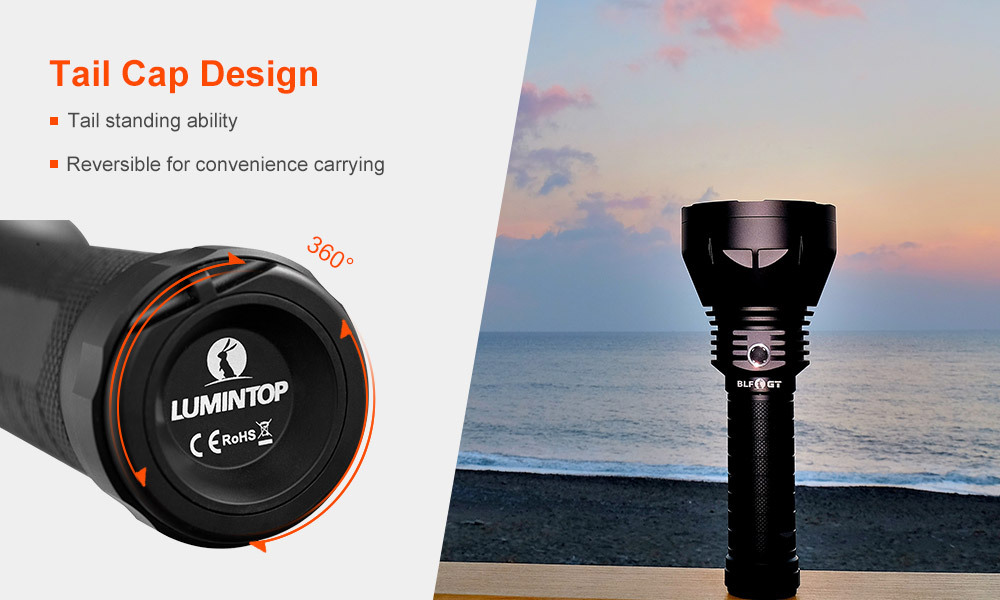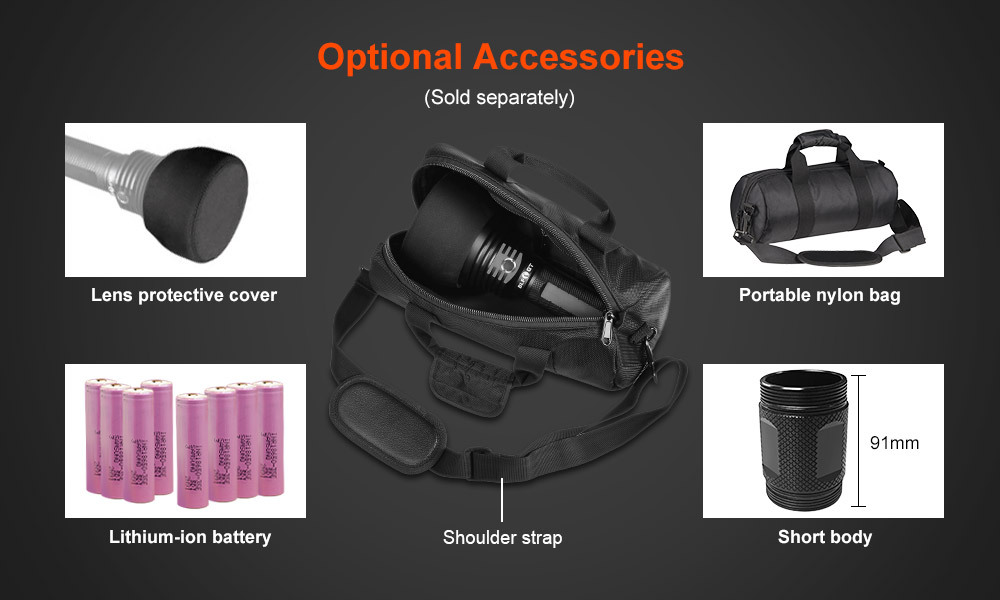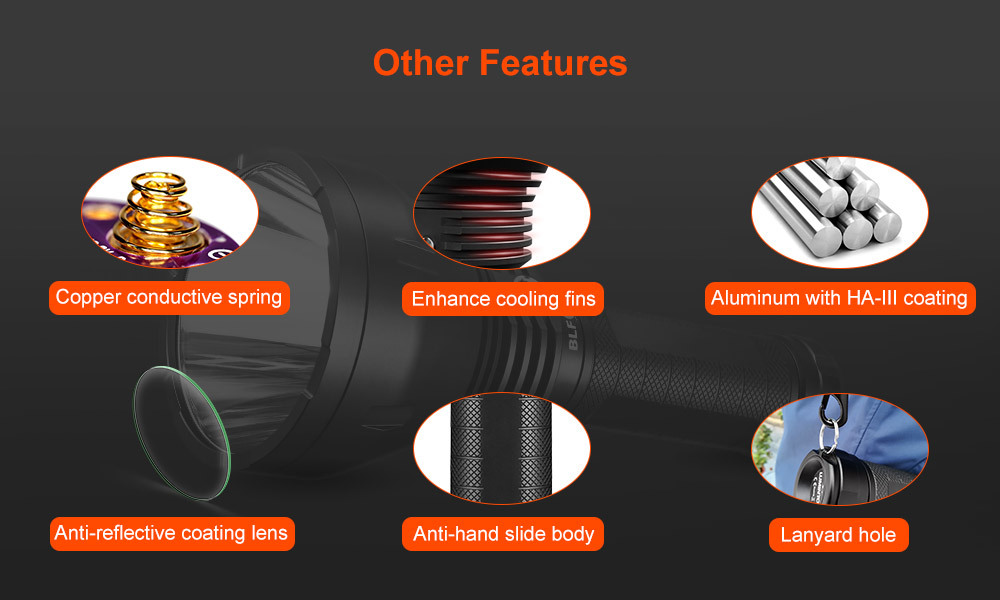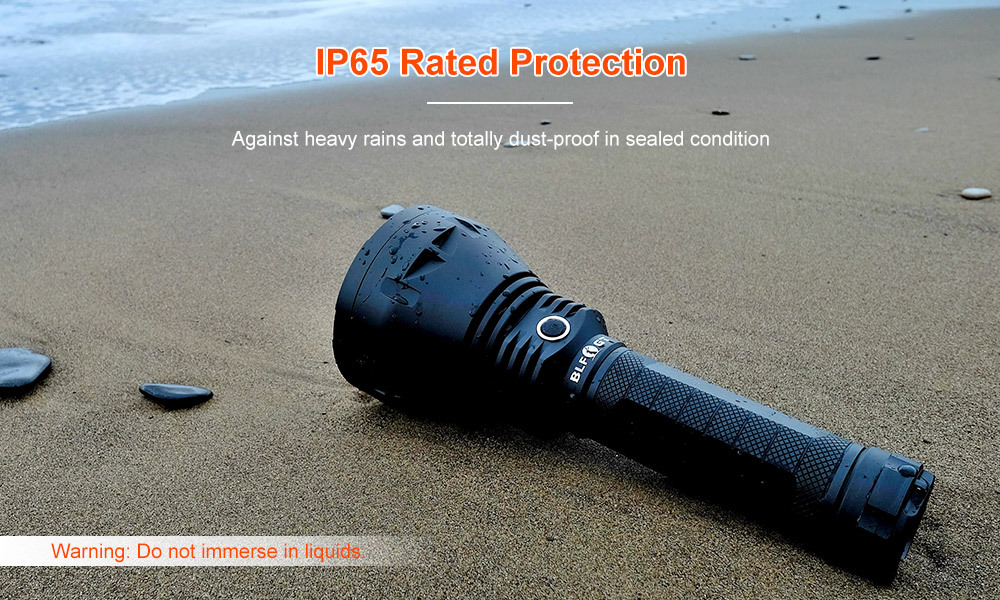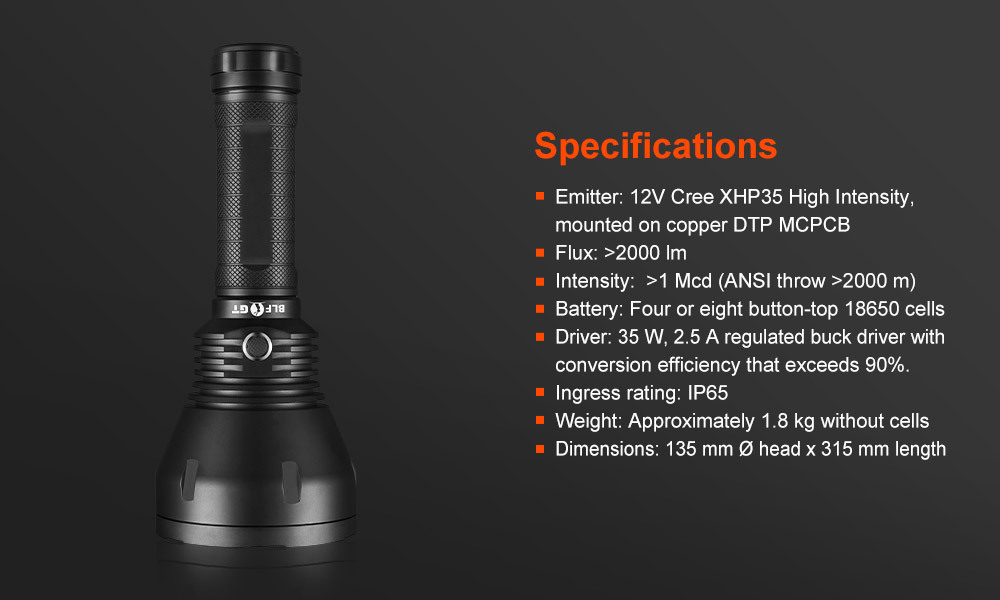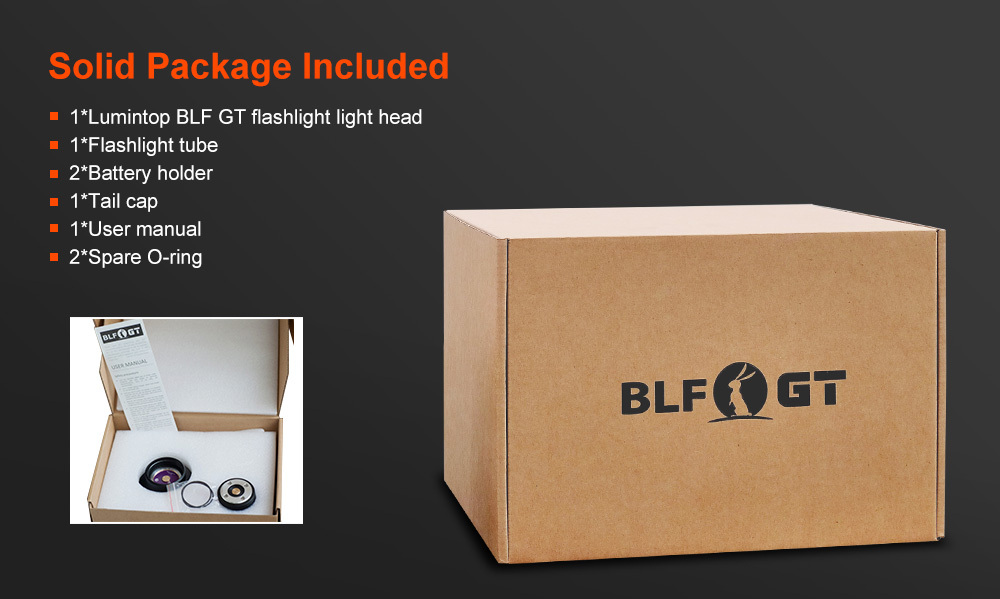 Brand Name:

Lumintop
Model Number:

BLF GT
Color:

Black
Function:

Shock Resistant,Hard Light
Battery Type:

Lithium Ion,18650
Certification:

CE,RoHS
Body Material:

Aluminum Alloy
Light Source:

LED Bulbs
Focal Length:

Non-adjustable
Charger:

Not Applicable
Waterproof:

Yes,IP65
Model of LED Beads:

Cree XHP35 HI LED
Zoom:

No
Switch Mode:

Narsil smooth RAMPING UI,Strobe
Lumen:

>2000
Support Dimmer:
Lighting Distance:

>2000m
Intensity:

>1 Mcd
Size:

135 mm Ø head x 315 mm length
Net Weight:

1.8 kg without cells
Your cart is currently empty.