.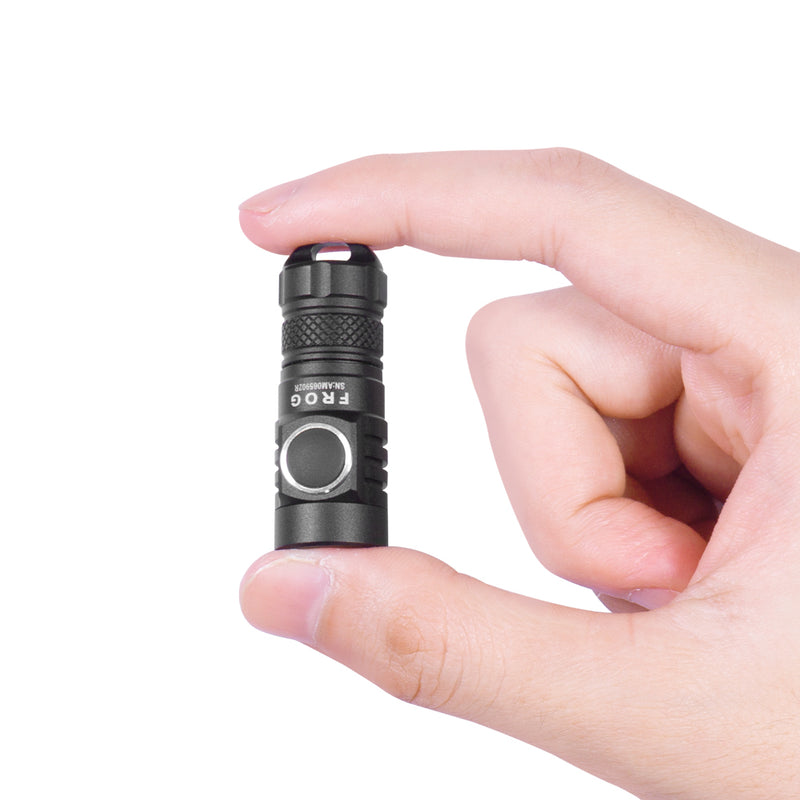 Lumintop® Upgraded-FROG Super Tiny EDC Keychain Flashlight
● Super Tiny & Lightweight: With a length of 45mm and 11g in weight, it fits easily in your pocket or connects to your keychain.
● Excellent performance: The thumb-sized flashlight with 570 lumens and 135 meters beam distance.
● USB Charging: With one 10180 Li-ion battery, it's convenient to charge via the USB charging unit (included).
mighty midget
Powerful & robust for its tiny size! Output can challenge some of the 14500 lights.
Can't find a lockout mode? Not shown in instructions. Hope it doesn't turn on in the pocket??
Simple to operate. Nice that the button switch glows. How it impacts battery life remains to be seen..? Instructions say it can be disabled. This one doesn't seem to..? Can't speak yet to how it will impact battery life..? The 10440 tube included also has a flat bottom. Will tail stand! nice feature, Drilled out for a mini key ring, not included. Key ring set included works on the tiny 10180 tube. Small tube does not tail stand. Battery charger works on both tubes.
Wish it had onboard charging for convenient travel. A nice compact light for the pocket or purse, when close to home.
New fave
Very impressed by this light and the shipping was so much faster than I anticipated. It's my new fave!
Frog V2
Great little keychain light. It's been on my keychain since I got it. It's so small and light, I forget that it's even there! When I need it, its right on my keychain, ready to use. Dynamite little powerhouse!!
Thank you for express and thank you to the seller