EDC Flashlight is abbreviation for Everyday Carry Flashlight. As the name implies, it is flashlight that you carry with you every day in your pocket or backpack, along with other essentials such as keys, phone, wallet etc. The EDC flashlights are usually lightweight, compact, and portable. An EDC Flashlight acts as a handy light source during night or during an emergency.
Who needs an EDC flashlight?
We think everyone needs an EDC flashlight. Because it is a vital piece of survival gear. With the right EDC flashlight, you'll never get caught in the dark, and better prepares you for the uncertainty the world might throw your way!
Types of EDC Flashlights
Here are some of the different types of EDC flashlights.
Pocket flashlights : These lights are a type of EDC light that comes with clips, which let you clip and carry the light easily and conveniently onto your jacket or pocket. Most of these pocket flashlights offer high outputs to ensure that user won't lose power to the size. With the advancement of LED technology and flashlight technology, we can easily see brighter lighting of flashlights at a smaller size.
Penlights : As the name suggests, these lights have a size and style similar to large pens. Penlights are designed for professionals like doctors and engineers. Its slim design will let you slip it easily in and out of the pocket. These penlights are great beginner EDC lights that offer beam to read and up-close work that makes it easy to operate and carry conveniently. Good quality penlights, like Lumintop IYP365, are made with aircraft-grade aluminum.
Keychain lights : These lights can be attached to your keychain rather than clipping onto some pocket, and carry it everywhere conveniently, just as a key. They are considered the smallest/tiny EDC flashlights. Usually, these flashlights are supplemental EDC lights designed for finding locks in the dark or digging through a handbag. They suit perfectly for everyone. Lumintop Tool AA 2.0 is a keychain light you can't miss.
Tactical Light : The tactical light is a common defensive EDC flashlight that creates a blinding light for the user to escape from the threat. In addition to the significant lumen output, they have bezels with protrusions to offer extra bite in the worst scenarios. These lights are always made with aluminum and thereby provide a perfect balance between their lightweight and strength.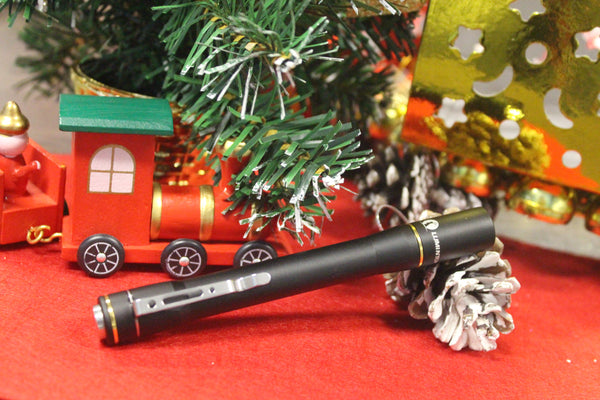 Buying Guide for EDC Flashlight
If you are looking for a good EDC flashlight, We've put together our list of 6 things to help you navigate the jungle of options.
#1: Brightness
The primary function of any flashlight is to serve as a source of light in low or no light conditions. Brightness is measured in the lumen. Generally, the higher lumens count will produce brighter light, but higher output levels often kill batteries in under five minutes.
Typically, EDC flashlights will be in the 50-1000 lumen range but consider how you are likely to use your light to help determine how many lumens you really need.  (The iPhone X flashlight is approximately 12 lumens at its lowest setting and 50 lumens at its highest setting.)
Lumintop EDC flashlights have a large output range to cover a variety of uses.
#2: Battery Type
The two main categories you can put flashlight batteries into are: rechargeable and non-rechargeable.
If its your first foray into the flashlight world, you may choose a AA or AAA powered EDC flashlight. Batteries for these flashlights are readily available and require very little maintenance, like Lumintop Tool AA series flashlights.
The rechargeable flashlights, typically charged via a USB cable, allow you to easily recharge at home and on the go, such as Lumintop D2.
Whichever you choose, you can count on the added reliability and illumination time of being able to have several batteries at your disposal.
#3: Flashlight Size
Take into account the way you'll be transporting your flashlight. Do you want to put it in your pocket, bag or on your keychain? Different ways of carrying, the size of the choice is not the same. If you're carrying in your pocket, you'll need a light that's under 5 inches in length.
Size has a big impact on output and throw, with larger lights generally out performing smaller ones. The trade-off for having a tiny EDC light is that you will have less space inside to fit a battery so you may sacrifice some power if you choose an ultra-compact flashlight. This is an important trade-off to consider, and you will have to strike a balance when finding the best EDC flashlight for you.
Lumintop has done a lot to improve the performance of EDC flashlights, such as GT Nano with a length of 52.5mm delivers an amazing throw of 300 meters.
#4: Durability
It is a must to choose an EDC flashlight that is designed with a durable body, impact resistance, and effectively resisting external elements. They can easily withstand daily pounding and last for a long time than the snazzy lookalikes.
Lumintop flashlights are made of high grade areocraft aluminium, military-grade(HA-III) anodized surface. The flashlights can withstand accidental drops and temporary water submersions.
#5: Carrying Options
We added carrying options in this guide. A good pocket clip not only secures your flashlight in your pocket or hat for carrying, but it can give you a way to position your beam hands-free! Two way clips are especially useful!
Many Lumintop flashlights are incorporating a magnetic tail cap into the design. This is great way to convert your EDC flashlight into a hands-free light source, especially handy for roadside emergencies or in workshops. 
#6: Budget
Last but not least, an important factor that many people ignore is your budget. If you want a good quality EDC flashlight, you need to spend a bit extra money. The price range of these flashlights will be from $20 – $100 (or above). Of course, many cheap options on the market may fit your budget perfectly, but how much functionality you would get from those devices would depend on what you have planned for the EDC lights.
When you buy a EDC flashlight, the first thing you need to consider is how you want to use yours. Depending on the scenarios where you apply the flashlight, you can make the right choice.
Lumintop EDC flashlights is loved by users for its excellent quality, exquisite design and suitable brightness. Whether it's a sudden power outage at home, or you need to go out at night, Lumintop EDC flashlights will be your ideal companion. Grab a Lumintop EDC flas