What are LEP (Laser Excited Phosphor) flashlights?
Laser excited phosphor (LEP) is a technology taking the flashlight market by storm, creating new capabilities for handheld lights. These types of flashlights are known to emit powerful beams with incredible range. Still, they lack any spill light at all - which makes them perfect for searching dark areas thousands of meters away or illuminating objects up to great distances without flooding your surrounding area in excess spill light! Let's see what the difference is between LEP flashlights compared to LED flashlights.
What is an LEP Flashlight?
LEP (Laser Excited Phosphor) is lighting technology that produces strong, efficient light with an emphasis on beam distance. LEP Tech is already popular in applications such as automotive and projection display devices due to the clear, powerful beam it provides. With that in mind it's a natural leap to use LEP for flashlights, and we're confident that they will be along the new cutting edge in the coming years.
How Does an LEP Flashlight Work?
The process of creating Laser Excited Phosphor light involves emitting a blue laser through a focused lens. This laser hits a phosphor element backed by a metal substrate, which is then reflected converting the beam to a broad-spectrum light. The resulting beam is the telltale bright white and long reaching LEP light!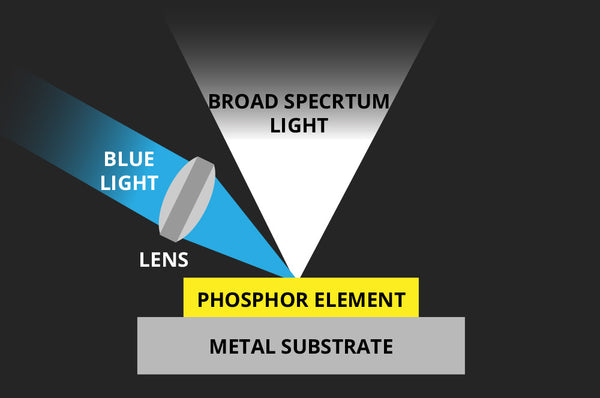 Are LEP Flashlights Dangerous?
No, LEP flashlight do not present any unique dangers as a result of their light generation mechanism. These flashlights are no more dangerous than any standard LED flashlight. Just as with any strong light source, pointing it directly into anyone's eyes is not recommended and could result in retinal damage.
LEP Vs. LED Flashlights
When you compare the beam of an LEP flashlight with a regular LED light, you'll notice that the hotspot is exceptionally tight. But even at a longer distance, the hotspot stays really small, unlike the average LED flashlight.
So the big question remains - are LEP set to replace LED flashlights? The answer is quite simple - it depends on the application. While LEP lights boast incredible efficiency and beam distance, standard LED lights will typically have a wider spread beam for area lighting. With this taken into account LEP lights are ideal for specific tasks, they are great for use in industrial settings, search and rescue or just having fun with friends. While LED lights are better all-rounders.
Do you have your perfect LEP flashlight yet? If not, browse through our LEP flashlight today.
we guarantee that there won't be any going back once you find yours!